Creative designs to reinvent your outdoor living spaces.
Landscape design is an integral part of creating beautiful and functional outdoor spaces. With the help of Blue Fox Landscape Design, and over 25 years of experience in landscape design, homeowners can transform their outdoor areas into stunning retreats that are both functional and aesthetically pleasing. Contact Blue Fox Landscape Design today to start planning your own stunning landscape design!
Challenges Homeowners Face
Limited functionality and usability of outdoor space in the absence of proper planning
Missing opportunities to incorporate unique and innovative design elements
Poor plant selection and placement leading to suboptimal growth and health of plants
Desire to achieve a cohesive and harmonious look throughout their outdoor space
Benefits to Professional Design
Increase your property value with a beautifully designed landscape
Improve curb appeal and make your property stand out
Ensure your outdoor space is functional for your needs and lifestyle
Get expert advice on plant selection and placement for optimal growth and beauty.
Our team of experienced and professional designers regularly brings client vision to life
Design Planning Examples
Blue Fox Landscape Design has designed hundreds of creative landscaping installations across our Western Pennsylvania service area.
Service Details
Design & Build
Blue Fox Landscape Design is expert in creating a customized and personalized outdoor space tailored to our client's unique preferences and needs.
We'll guide you through the process of making your new landscape a reality. From initial planning to completing the finishing touches, our experienced team has it covered. A stress-free landscape design process performed by our team of skilled professionals awaits. What kind of landscape projects can we install for you?
Patios & Courtyards
Water Features
Retaining Walls
Pool Surrounds
Driveways & Walkways
Outdoor Lighting
Outdoor Fireplaces
Grills or Full Kitchens
Hot Tubs
Ponds
Customized Rock Design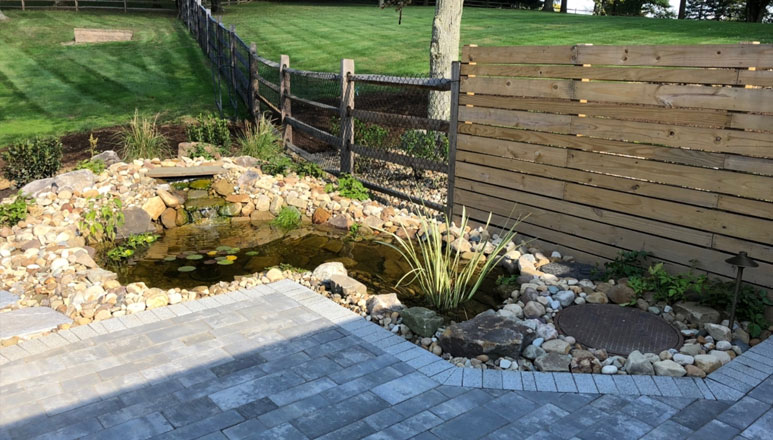 Challenges Homeowners Face
Lack of personal time and expertise in landscape design, resulting in an unappealing outdoor space
Missing or poorly installated hardscaping features, leading to safety hazards and possible damage to property
Inadequate lighting, resulting in an uninviting and dark outdoor space
Lack of horticulatural knowledge of the appropriate plants and materials to use for the local climate
Limited knowledge of landscape design options, leaving an outdoor space looking bland and uninspiring
Lack of trust in the construction process, concerns over delays or mistakes, or even project cost overruns
Increased difficulty in selling the property, as a poorly designed or maintained landscape can significantly decrease the property's overall value
Benefits of Professional Installation
Expert guidance and support throughout the entire landscape design and installation process
Access to a wide range of landscaping services for all outdoor needs, from patios and courtyards to custom rock design
Integration of functional features such as retaining walls, pool surrounds, driveways and walkways for maximum usability and practicality
Incorporation of relaxing and enjoyable water features such as ponds and waterfalls for a calming outdoor oasis
Beautiful and well-designed outdoor lighting solutions to create a stunning atmosphere during evening hours
Ability to create an outdoor space that is perfect for entertaining and socializing with friends and family, with features such as outdoor fireplaces, grills, and full kitchens
We Specialize in 'Special'
Blue Fox Landscape Design has a reputation for creating imaginative installations for our clients.
Service Details
Maintenance
Save time and effort by trusting our experienced technicians to handle your landscape maintenance needs.
The maintenance professionals at Blue Fox Landscape take care of all the details, while you focus on enjoying your investment in every season.
Spring & Fall Clean-Up Services
Mulching & Edging
Technical Landscape Care
Pruning
Weeding
Fertilization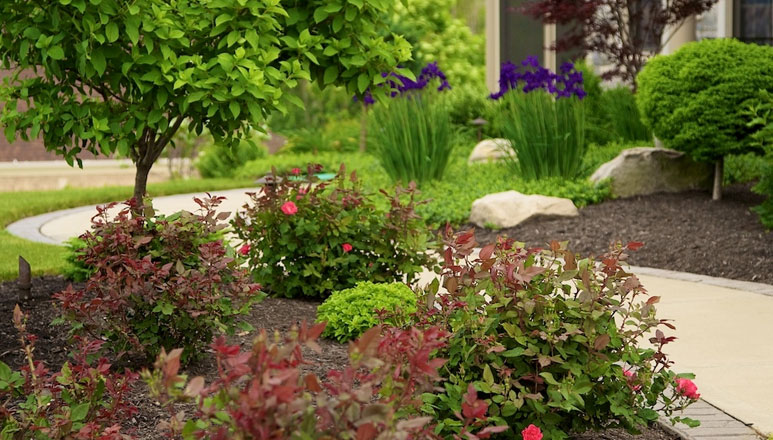 Maintenance Challenges Homeowners Face
Lack of time or physical ability to tackle overgrown gardens and lawns
Poor plant health due to lack of proper fertilization
Weeds that can take over the garden and outcompete desired plants
Inability to identify disease outbreaks that can cause permanent damage to plants
Misunderstood approaches to pruning that can damage plants and result in an unappealing appearance
An accumulation of debris that can create safety hazards, especially during the fall season
Damage to hardscape features such as retaining walls and walkways due to overgrowth of nearby plants
Concerns over property value due to an unkempt appearance
Benefits of Professional Maintenance
Save time and effort by letting professionals handle your landscape maintenance needs
Maintain the health and beauty of your landscape with regular pruning, shearing, and fertilization
Keep your property looking sharp with expert mulching and edging services
Avoid the hassle of spring and fall clean-up
Ensure that your landscape is properly cared for with technical landscape care services
Free up your weekends and enjoy your outdoor spaces with peace of mind
Benefit from our years of experience and expertise
Enjoy a stress-free, beautiful outdoor space without having to lift a finger
Trust in the quality of work provided by a team of professionals who take pride in their craft
Increase the overall value of your property with a well-maintained and manicured landscape
Protection for Your Landscape Investment
Trust Blue Fox Landscape Design to ensure that your outdoor spaces maintain their best appearance all year long.
Service Details
Garden Enhancements
Transform your existing landscape into a stunning and inviting space with Blue Fox Landscape Design's expertise in refreshing landscapes.
Whether you would like to refresh your existing landscape, add colorful arrangements to the front entrance, or are looking to add a seasonal appeal, our professionals will inspire you with their creative designs.
Annual Planting
Planter Design
Bed Renovations
Holiday Décor and lighting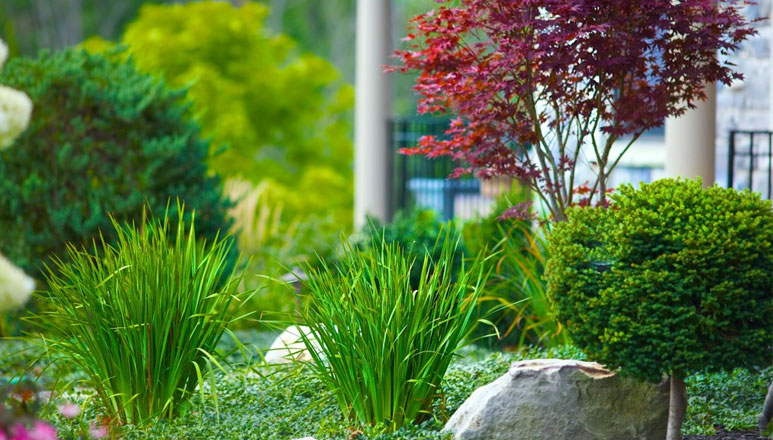 Garden Challenges Homeowners Face
Poor plant selection and arrangement can lead to ineffective pest and disease management, resulting in unhealthy plants.
Improper plant spacing and placement can lead to overcrowding, blocking sunlight and stunting growth.
Lack of knowledge about plant care and maintenance can lead to under or over-watering, causing plant stress and disease.
Inadequate soil preparation and fertilization resulting in poor plant growth and yield.
Lack of experience with pruning and shaping can lead to unattractive, unbalanced plant growth and shape.
Limited knowledge of seasonal and perennial plants can lead to a lack of color and texture variation throughout the year.
Limited plant variety and lack of creativity in design of planters and beds can lead to unattractive and ineffective plant displays.
Inattetion to garden enhancement services could lead to decreased property value and curb appeal.
Benefits of Enhancing Your Garden
Enhance the beauty of your property's entrance with colorful and eye-catching arrangements designed by our professionals
Bring seasonal appeal to your landscape with creative designs that are tailored to your preferences and needs
Keep your property looking its best year-round with our annual planting services
Get inspired by our unique planter designs that add a touch of sophistication to any outdoor space
Upgrade your landscape with our bed renovation services, and enjoy a fresh and new look
Create a magical atmosphere during the holidays with our exquisite décor and lighting services
Save time and effort by letting our professionals handle all aspects of your landscape design and maintenance needs
Enjoy a stress-free experience while we bring your vision to life with our innovative and creative approach
Gorgeous & Colorful Plant Selections for Every Season
Let Blue Fox Landscape Design's team of horticultural experts transform your home's outdoor spaces from ordinary into extraordinary.